---

Volume 69
Part 4
Page o571
April 2013
Received 13 March 2013
Accepted 17 March 2013
Online 23 March 2013
Key indicators
Single-crystal X-ray study
T = 113 K
Mean

(C-C) = 0.003 Å
R = 0.031
wR = 0.076
Data-to-parameter ratio = 12.8
Details

(E)-[2-(1,3-Dithiolan-2-ylidene)hydrazinylidene](3-fluorophenyl)methyl 3-fluorobenzoate

In the title compound, C17H12F2N2O2S2, the conformation of the dithiacyclopentane ring is a half-chair, with a total puckering amplitude QT = 0.460 (1) Å.

-

interactions [centroid-centroid distance = 3.585 (9) Å between the fluorophenyl rings of neighbouring molecules] and C-H

N and C-H

O interactions help to stabilize the crystal structure and form ladders along the c axis.
Related literature
For the use of dithiolan heterocyclic compounds as broad-spectrum fungicides, see: Tanaka et al. (1976

); Wang et al. (1994

).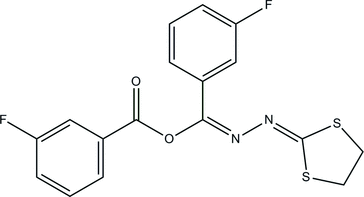 Experimental
Data collection: CrystalClear-SM Expert (Rigaku/MSC, 2009)

; cell refinement: CrystalClear-SM Expert; data reduction: CrystalClear-SM Expert; program(s) used to solve structure: SHELXS97 (Sheldrick, 2008

); program(s) used to refine structure: SHELXL97 (Sheldrick, 2008

); molecular graphics: SHELXTL (Sheldrick, 2008

); software used to prepare material for publication: SHELXTL.
---
Supplementary data and figures for this paper are available from the IUCr electronic archives (Reference: HG5300 ).
---
Acknowledgements
The author thanks the Jining University Foundation (No. 2012YYJJ07) for financial support of this work.
---
Acta Cryst (2013). E69, o571 [ doi:10.1107/S1600536813007319 ]