---

Volume 69
Part 4
Page o588
April 2013
Received 19 March 2013
Accepted 20 March 2013
Online 23 March 2013
Key indicators
Single-crystal X-ray study
T = 110 K
Mean

(C-C) = 0.002 Å
R = 0.035
wR = 0.087
Data-to-parameter ratio = 12.5
Details

N-(2-Methoxybenzyl)-9-(oxolan-2-yl)-9H-purin-6-amine

aDepartment of Inorganic Chemistry, Faculty of Science, Palacký University, 17. listopadu 12, CZ-771 46 Olomouc, Czech Republic, and bDepartment of Cell Biology and Genetics, Faculty of Science, Palacký University, Slechtitelu 11, CZ-783 71 Olomouc, Czech Republic
Correspondence e-mail: zdenek.travnicek@upol.cz
The title compound, C17H19N5O2, features an almost planar purine skeleton (r.m.s. deviation = 0.009 Å) substituted by a tetrahydrofuran ring, which adopts an envelope conformation. The purine and benzene rings subtend a dihedral angle of 66.70 (3)°. In the crystal, pairs of N-H

N hydrogen bonds connect adjacent molecules into inversion dimers. C-H

N, C-H

O, C-H


and

-

interactions [pyrimidine ring centroid-centroid distance = 3.3909 (1) Å] connect the dimers into a three-dimensional architecture.
Related literature
For an alternative synthetic procedure and the biological activity of benzyl-substituted 6-benzylamino-9-tetrahydropyran-2-yl-9H-purine derivatives, see: Szücová et al. (2009

). For a related structure, see: Starha et al. (2013

).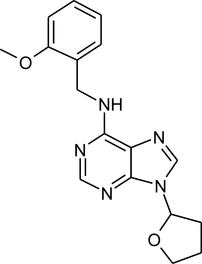 Experimental
Data collection: CrysAlis PRO (Agilent, 2012

); cell refinement: CrysAlis PRO; data reduction: CrysAlis PRO; program(s) used to solve structure: SHELXS97 (Sheldrick, 2008

); program(s) used to refine structure: SHELXL97 (Sheldrick, 2008

); molecular graphics: DIAMOND (Brandenburg, 2011

); software used to prepare material for publication: publCIF (Westrip, 2010

).
---
Supplementary data and figures for this paper are available from the IUCr electronic archives (Reference: NG5319 ).
---
This work was supported by Palacký University (grant No. PrF_2013_015). The authors wish to thank Mr Tomás Silha for performing the CHN elemental analysis.
Agilent (2012). CrysAlis PRO. Agilent Technologies Ltd, Yarnton, England.
Brandenburg, K. (2011). DIAMOND. Crystal Impact GbR, Bonn, Germany.
Sheldrick, G. M. (2008). Acta Cryst. A64, 112-122.



Starha, P., Popa, I., Dvorák, Z. & Trávnícek, Z. (2013). Acta Cryst. E69, o533.



Szücová, L., Spíchal, L., Dolezal, K., Zatloukal, M., Greplová, J., Galuszka, P., Krystof, V., Voller, J., Popa, I., Massino, F. J., Jørgensen, J. E. & Strnad, M. (2009). Bioorg. Med. Chem. 17, 1938-1947.


Westrip, S. P. (2010). J. Appl. Cryst. 43, 920-925.