---

Volume 69
Part 4
Page o618
April 2013
Received 25 March 2013
Accepted 25 March 2013
Online 28 March 2013
Key indicators
Single-crystal X-ray study
T = 295 K
Mean

(C-C) = 0.006 Å
R = 0.065
wR = 0.232
Data-to-parameter ratio = 17.9
Details

4-[5-(4-Fluorophenyl)-1-(4-phenyl-1,3-thiazol-2-yl)-4,5-dihydro-1H-pyrazol-3-yl]-5-methyl-1-(4-methylphenyl)-1H-1,2,3-triazole

aApplied Organic Chemistry Department, National Research Centre, Dokki, 12622 Giza, Egypt,bDepartment of Chemistry, University of Malaya, 50603 Kuala Lumpur, Malaysia, and cChemistry Department, Faculty of Science, King Abdulaziz University, PO Box 80203 Jeddah, Saudi Arabia
Correspondence e-mail: edward.tiekink@gmail.com
In the title compound, C28H23FN6S, the pyrazole ring adopts an envelope conformation, with the methine C atom being the flap atom. With respect to this ring, the 2-thienyl, triazole and fluorobenzene rings are approximately coplanar, coplanar and perpendicular, respectively [dihedral angles = 8.56 (17), 6.03 (19) and 73.1 (2)°, respectively] so that to a first approximation the molecule has a T-shape. In the crystal, molecules are consolidated into a three-dimensional architecture by C-H

F (involving a bifurcated F atom), C-H

S and C-H


interactions.
Related literature
For the synthesis, structure and biological activity of 1-thiazol-2-ylpyrazoline, see: Abdel-Wahab et al. (2012

); Dong et al. (2011

).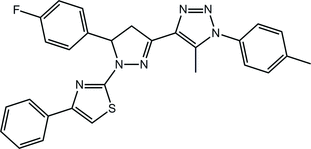 Experimental
Data collection: CrysAlis PRO (Agilent, 2011

); cell refinement: CrysAlis PRO; data reduction: CrysAlis PRO; program(s) used to solve structure: SHELXS97 (Sheldrick, 2008

); program(s) used to refine structure: SHELXL97 (Sheldrick, 2008

); molecular graphics: ORTEP-3 for Windows (Farrugia, 2012

) and DIAMOND (Brandenburg, 2006

); software used to prepare material for publication: publCIF (Westrip, 2010

).
---
Supplementary data and figures for this paper are available from the IUCr electronic archives (Reference: SU2580 ).
---
We thank the Ministry of Higher Education (Malaysia) for funding structural studies through the High-Impact Research scheme (UM.C/HIR-MOHE/SC/03).
Abdel-Wahab, B. F., Abdel-Latif, E., Mohamed, H. A. & Awad, G. E. A. (2012). Eur. J. Med. Chem. 52, 263-268.




Agilent (2011). CrysAlis PRO. Agilent Technologies, Yarnton, England.
Brandenburg, K. (2006). DIAMOND. Crystal Impact GbR, Bonn, Germany.
Dong, W.-J., Cui, F.-H., Gao, Z.-L., Li, R.-S., Shen, G.-L. & Dong, H.-S. (2011). J. Heterocycl. Chem. 48, 1154-1160.



Farrugia, L. J. (2012). J. Appl. Cryst. 45, 849-854.





Sheldrick, G. M. (2008). Acta Cryst. A64, 112-122.



Westrip, S. P. (2010). J. Appl. Cryst. 43, 920-925.