Related literature
For the alternative synthetic procedure and biological activity of the title compound, see: Szücová et al. (2009

). For the structures of similar compounds, see: Soriano-Garcia et al. (2003

); Taddei et al. (2004

). For puckering parameters, see: Cremer & Pople (1975

).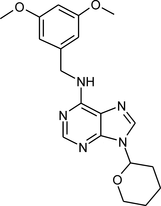 Experimental
Data collection: CrysAlis PRO (Agilent, 2012

); cell refinement: CrysAlis PRO; data reduction: CrysAlis PRO; program(s) used to solve structure: SHELXS97 (Sheldrick, 2008

); program(s) used to refine structure: SHELXL97 (Sheldrick, 2008

); molecular graphics: DIAMOND (Brandenburg, 2011

); software used to prepare material for publication: publCIF (Westrip, 2010

).
---
Supplementary data and figures for this paper are available from the IUCr electronic archives (Reference: ZQ2196 ).
---
This work was supported by Palacký University (grant No. PrF_2012_009). The authors thank Mr Tomás Silha for performing the CHN elemental analyses.
Agilent (2012). CrysAlis PRO. Agilent Technologies Ltd, Yarnton, Oxfordshire, England.
Brandenburg, K. (2011). DIAMOND. Crystal Impact GbR, Bonn, Germany.
Cremer, D. & Pople, J. A. (1975). J. Am. Chem. Soc. 97, 1354-1358.




Sheldrick, G. M. (2008). Acta Cryst. A64, 112-122.



Soriano-Garcia, M., Avellaneda, C. R. & Aguirre-Hernandez, G. (2003). Anal. Sci. 19, 1343-1344.



Szücová, L., Spíchal, L., Dolezal, K., Zatloukal, M., Greplová, J., Galuszka, P., Krystof, V., Voller, J., Popa, I., Massino, F. J., Jørgensen, J. E. & Strnad, M. (2009). Bioorg. Med. Chem. 17, 1938-1947.


Taddei, D., Kilian, P., Slawin, A. M. Z. & Woollins, J. D. (2004). Org. Biomol. Chem. 2, 665-670.





Westrip, S. P. (2010). J. Appl. Cryst. 43, 920-925.