---

Volume 69
Part 5
Page o644
May 2013
Received 5 March 2013
Accepted 26 March 2013
Online 5 April 2013
Key indicators
Single-crystal X-ray study
T = 200 K
Mean

(C-C) = 0.002 Å
R = 0.037
wR = 0.107
Data-to-parameter ratio = 15.7
Details

1-(2H-1,3-Benzodioxol-5-yl)ethanone thiosemicarbazone

aDepartamento de Química, Universidade Federal de Sergipe, Av. Marechal Rondon s/n, Campus, 49100-000 São Cristóvão-SE, Brazil,bInstitut für Anorganische Chemie, Christian-Albrechts-Universität zu Kiel, Max-Eyth Strasse 2, D-24118 Kiel, Germany, and cEscola de Química e Alimentos, Universidade Federal do Rio Grande, Av. Itália km 08, Campus Carreiros, 96201-900, Rio Grande-RS, Brazil
Correspondence e-mail: adriano@daad-alumni.de
In the title compound, C10H11N3O2S, the 1,3-benzodioxole and hydrazinecarbothioamide fragments are nearly planar [(mean deviations from planarity for non-H atoms of 0.0325 (12) Å and 0.0707 (10) Å, respectively] and subtend a dihedral angle of 29.06 (5)°. In the crystal, molecules are linked by pairs of almost linear N-H

S hydrogen bonds, forming inversion dimers. These dimers are additionally connected by weaker and strongly bent N-H

S interactions into chains along [101]. There is one additional weak N-H

O contact which, if considered as an interaction, leads to the formation of a three-dimensional network.
Related literature
For the adapted synthesis of the title compound, see: de Oliveira et al. (2012

). For the pharmacological activity of 3',4'-(methylenedioxy)acetophenone thiosimecarbazone derivatives, see: Silva et al. (1998

).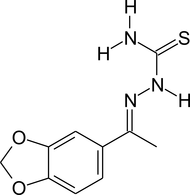 Experimental
Data collection: X-AREA (Stoe & Cie, 2008

); cell refinement: X-AREA; data reduction: X-RED32 (Stoe & Cie, 2008

); program(s) used to solve structure: SHELXS97 (Sheldrick, 2008

); program(s) used to refine structure: SHELXL97 (Sheldrick, 2008

); molecular graphics: DIAMOND (Brandenburg, 2011

); software used to prepare material for publication: publCIF (Westrip, 2010

).
---
Supplementary data and figures for this paper are available from the IUCr electronic archives (Reference: QK2055 ).
---
Acknowledgements
We gratefully acknowledge financial support by the State of Schleswig-Holstein, Germany. We thank Professor Dr Wolfgang Bensch for access to his experimental facilities. ABO acknowledges financial support through the FAPITEC/SE/FUNTEC/CNPq PPP 04/2011 program.
Brandenburg, K. (2011). DIAMOND. Crystal Impact GbR, Bonn, Germany.
Oliveira, A. B. de, Silva, C. S., Feitosa, B. R. S., Näther, C. & Jess, I. (2012). Acta Cryst. E68, o2581.




Sheldrick, G. M. (2008). Acta Cryst. A64, 112-122.




Silva, M. J., Alves, A. J. & Nascimento, S. C. (1998). Il Farmaco, 53, 241-243.


Stoe & Cie (2008). X-AREA and X-RED32. Stoe & Cie, Darmstadt, Germany.
Westrip, S. P. (2010). J. Appl. Cryst. 43, 920-925.