---

Volume 69
Part 6
Page m328
June 2013
Received 24 April 2013
Accepted 13 May 2013
Online 18 May 2013
Key indicators
Single-crystal X-ray study
T = 113 K
Mean

(C-C) = 0.004 Å
R = 0.038
wR = 0.068
Data-to-parameter ratio = 18.4
Details

Tetraphenylphosphonium [3-(4-methylphenyl)tellurolato]tris[tetracarbonyliron(0)]

aSchool of Chemistry and Pharmaceutical Engineering, Institute of Functional Materials, Sichuan University of Science & Engineering, Zigong, Sichuan 643000, People's Republic of China
Correspondence e-mail: yu_longli@yahoo.cn
In the anion of the title compound, (C24H20P)[Fe3(C7H7Te)(CO)12], each Fe0 atom is coordinated by four CO ligands and a Te atom, resulting in a trigonal-bipyramidal coordination environment. The Te atom is coordinated by a 4-methylphenyl group and the Fe0 atoms in a distorted tetrahedral geometry. The average Te-Fe bond length is 2.574 (4) Å.
Related literature
For related structures, see: Seyferth et al. (1985

); Nicolet et al. (1999

); Shieh & Shieh (1994

).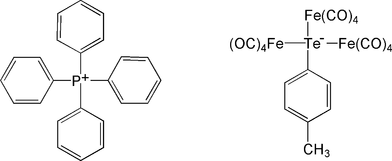 Experimental
Data collection: CrystalClear (Rigaku/MSC, 2005

); cell refinement: CrystalClear; data reduction: CrystalClear; program(s) used to solve structure: SHELXS97 (Sheldrick, 2008

); program(s) used to refine structure: SHELXL97 (Sheldrick, 2008

); molecular graphics: SHELXTL/PC (Sheldrick, 2008

); software used to prepare material for publication: CrystalStructure (Rigaku/MSC, 2005

).
---
Supplementary data and figures for this paper are available from the IUCr electronic archives (Reference: IM2431 ).
---
Acknowledgements
The authors are grateful to Sichuan Science and Technology Department (2012JY0115, 2011JY0052, 2010GZ0130) and the start-up foundation of Sichuan University of Science & Engineering (2011RC06) for financial support.
Nicolet, Y., Piras, C., Legrand, P., Hatchikian, C. E. & Fontecilla-Camps, J. C. (1999). Structure, 7, 13-23.





Rigaku/MSC (2005). CrystalClear and CrystalStructure. Rigaku/MSC Inc. The Woodlands, Texas, USA.
Seyferth, D., Womack, G. B. & Dewan, J. C. (1985). Organometallics, 4, 398-400.



Sheldrick, G. M. (2008). Acta Cryst. A64, 112-122.




Shieh, M. & Shieh, M.-H. (1994). Organometallics, 13, 920-924.