---

Volume 69
Part 6
Page o890
June 2013
Received 25 February 2013
Accepted 3 May 2013
Online 15 May 2013
Key indicators
Single-crystal X-ray study
T = 193 K
Mean

(C-C) = 0.006 Å
R = 0.076
wR = 0.151
Data-to-parameter ratio = 15.2
Details

6,12-Bis[(tricyclohexylsilyl)ethynyl]indeno[1,2-b]fluorene

aDepartment of Chemistry and Materials Science Institute, University of Oregon, Eugene, Oregon 97403-1253, USA, and bCAMCOR, University of Oregon, 1443 East 13th Avenue, Eugene, Oregon 97403, USA
Correspondence e-mail: haley@uoregon.edu
The title compound, C60H76Si2, a formally anti-aromatic system containing 20-

electrons, contains a rare p-xylylene motif. This is displayed by the alternating short and long bonds. The outer rings possess nearly homogenous bond lengths. In the crystal, the molecules forms layers perpendicular to the c axis and within these layers there are two one-dimensional stacks with one stack that has a sp2 carbon contact of 3.283 (6) Å, less than the sum of the van der Waals radii. The center of the molecule sits on an inversion center.
Related literature
For the synthetic procedure, see: Kendrick et al. (2012

). For information about the indenofluorene molecular framework, see: Fix et al. (2012

) and about crystal packing, see: Anthony et al. (2010

).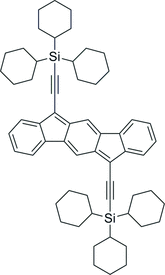 Experimental
Crystal data
C60H76Si2

Mr = 853.39

Monoclinic, C 2/c

a = 20.219 (7) Å

b = 7.246 (2) Å

c = 33.885 (11) Å

= 103.017 (7)°

V = 4837 (3) Å3

Z = 4

Mo K radiation

= 0.11 mm-1

T = 193 K

0.08 × 0.03 × 0.01 mm
Data collection: SMART (Bruker, 2000

); cell refinement: SAINT (Bruker, 2000

); data reduction: SAINT; program(s) used to solve structure: XS in SHELXTL (Sheldrick, 2008

); program(s) used to refine structure: XL in SHELXTL; molecular graphics: XP in SHELXTL; software used to prepare material for publication: SHELXTL.
---
Supplementary data and figures for this paper are available from the IUCr electronic archives (Reference: PK2470 ).
---
The authors thank the National Science Foundation (CHE-1013032) for financial support. BDR acknowledges the American Chemical Society Division of Organic Chemistry for the 2012-2013 Troyanski Fellowship.
Anthony, J. E., Fachetti, A., Heeney, M., Marder, S. R. & Zhan, X. (2010). Adv. Mater. 22, 3876-3892.





Bruker (2000). SMART, SAINT and SADABS. Bruker AXS Inc., Madison, Wisconsin, USA.
Fix, A. G., Chase, D. T. & Haley, M. M. (2012). Top. Curr. Chem. doi:10.1007/128_2012_376.
Kendrick, M. J., Neunzert, A., Payne, M. M., Purushothaman, B., Rose, B. D., Anthony, J. E., Haley, M. M. & Ostroverkhova, O. (2012). J. Phys. Chem. C, 116, 18108-18116.



Sheldrick, G. M. (2008). Acta Cryst. A64, 112-122.