---

Volume 69
Part 7
Page m372
July 2013
Received 23 May 2013
Accepted 31 May 2013
Online 8 June 2013
Key indicators
Single-crystal X-ray study
T = 291 K
Mean

(C-C) = 0.007 Å
R = 0.032
wR = 0.063
Data-to-parameter ratio = 15.2
Details

Chlorido{1-[(dimethylamino)methyl]ferrocenyl-2C2,N}(triphenylstibine-Sb)palladium(II)

aInstituto de Química, Universidad Nacional Autónoma de México, Circuito Exterior s/n Ciudad Universitaria, 04510, México D.F., México, and bIngeniería Bioquímica, Instituto Tecnológico Superior de Atlixco, Atlixco, Puebla, México
Correspondence e-mail: pankajsh@unam.mx
In the title compound, [FePdCl(C5H5)(C8H11N)(C18H15Sb)], obtained by reaction of diphenyl(N,N-dimethylaminomethylferrocenyl)stibine with sodium tetrachloridopalladate(II) in acetone, the PdII atom is coordinated in a slightly distorted square-planar geometry by a C atom of the ferrocenyl ring, and by N, Cl and Sb atoms. The Sb and N atoms are trans to each other.
Related literature
For the use of 1,2-disubstituted ferrocenylphosphines as catalytic precursors, see: Sokolov et al. (2005

); Zirakzadeh et al. (2012

). For Pd-Sb bond lengths in related compounds, see: Mentes & Fawcett (2005

).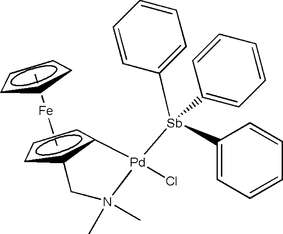 Experimental
Sb1-C14
2.127 (4)
Sb1-C20
2.120 (4)
Sb1-C26
2.119 (4)
Sb1-Pd1
2.4853 (4)
Pd1-C1
1.973 (4)
Pd1-Cl1
2.3952 (10)
Pd1-N1
2.174 (3)
Data collection: SMART (Bruker, 2007

); cell refinement: SAINT (Bruker, 2007

); data reduction: SAINT; program(s) used to solve structure: SHELXTL (Sheldrick, 2008

); program(s) used to refine structure: SHELXTL; molecular graphics: SHELXTL; software used to prepare material for publication: SHELXTL.
---
Supplementary data and figures for this paper are available from the IUCr electronic archives (Reference: VN2072 ).
---
The authors thank the Dirección General de Asuntos del Personal Académico-UNAM project No. IN-223013 for financial support.
Bruker (2007). SMART, SAINT and SADABS. Bruker AXS Inc., Madison, Wisconsin, USA.
Mentes, A. & Fawcett, J. (2005). Inorg. Chim. Acta. C358, 1279-1283.




Sheldrick, G. M. (2008). Acta Cryst. A64, 112-122.




Sokolov, M. N., Chubarova, E. V., Hernández-Molina, R., Clausen, M., Naumov, D., Vincent, C., Lusar, R. & Vladimir, P. (2005). Eur. J. Inorg. Chem. 11, 2139-2146.




Zirakzadeh, A., Schuecker, R., Gorgas, N., Mereiter, K., Spindler, F. & Weissensteiner, W. (2012). Organometallics, 31, 4241-4250.