Acta Crystallographica Section E
Structure Reports Online
Volume 69, Part 8 (August 2013)
---
metal-organic compounds
---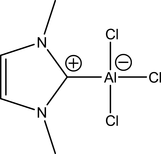 Acta Cryst. (2013). E69, m441-m442 [ doi:10.1107/S1600536813018254 ]
Trichlorido(1,3-dimethyl-2,3-dihydro-1H-imidazol-2-ylidene-C2)aluminium(III)
Abstract: The title compound, [Al(C5H8N2)Cl3], was prepared by a thermolytic decomposition under high-vacuum conditions and presents a formal adduct of an Arduengo carbene, 1,3-dimethyl-1H-imidazol-2-ylidene, and aluminium trichloride. The Al atom adopts a pseudo-tetrahedral CCl3 coordination environment. All N and C atoms, the Al atom, one of the Cl atoms, and all aromatic H atoms of the molecule lie on a mirror plane. As a result of the mirror symmetry of the molecule, the H atoms of all methyl groups are disordered between symmetry-equivalent positions.
---




Hyper-Text Markup Language (HTML) file
[ doi:10.1107/S1600536813018254/wm2754sup0.html ]
Supplementary materials

---




Chemdraw file (1.9 kbytes)
[ doi:10.1107/S1600536813018254/wm2754Isup3.cdx ]
Supplementary material

---
Notes:
To open or display or play some files, you may need to set your browser up to use the appropriate software. See the full list of file types for an explanation of the different file types and their related mime types and, where available links to sites from where the appropriate software may be obtained.
The download button will force most browsers to prompt for a file name to store the data on your hard disk.
Where possible, images are represented by thumbnails.
---
Copyright © International Union of Crystallography
IUCr Webmaster