---

Volume 69
Part 9
Page m504
September 2013
Received 9 August 2013
Accepted 10 August 2013
Online 17 August 2013
Key indicators
Single-crystal X-ray study
T = 101 K
Mean

(C-C) = 0.002 Å
Disorder in solvent or counterion
R = 0.037
wR = 0.091
Data-to-parameter ratio = 32.0
Details

Bis[bis(pentamethylcyclopentadienyl)cobalt(III)] tetrachloridocobaltate(II) dichloromethane disolvate

The title compound, [Co(C10H15)2]2[CoCl4]·2CH2Cl2, was isolated as a dichloromethane solvate and was formed in the reaction between lithium pentamethylcyclopentadienide and anyhydrous cobalt(II) chloride in tetrahydrofuran. There are two decamethylcobaltocenium cations, one tetrachloridocobaltate(II) anion and two dichloromethane solvent molecules in the formula unit. There is a slight disorder of the dichloromethane solvent which was treated with a two-site model [occupancy rates = 0.765 (4) and 0.235 (4)]. The dichloromethane molecules display significant C-H

Cl interactions with the tetrachloridocobaltate(II) dianion. The cobalt atom of the decamethylcobaltocenium cation sits on a twofold rotation axis, with only one pentamethylcyclopentadiene ligand being unique and the second generated by symmetry. The cobalt atom of the [CoCl4]-2 ion sits on a special site with -4 symmetry, with one unique chloride ligand and the others generated by the fourfold inversion axis.
Related literature
For a related structure with a (THF)2LiCl2CoCl2 monoanion and the decamethylcobaltocenium cation, see: Dehnen & Zimmermann (2000

) (CCDC 135478). The structure of a related dimer synthesized by Koelle et al. (1986

) was determined by Olson & Dahl (1986

) (CCDC 566220). For a discussion of the role of chloroform and dichloromethane solvent molecules in crystal packing, see: Allen et al. (2013

).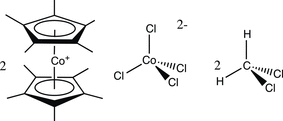 Experimental
Data collection: CrysAlis PRO (Agilent, 2013

); cell refinement: CrysAlis PRO; data reduction: CrysAlis PRO; program(s) used to solve structure: SHELXS97 (Sheldrick, 2008

); program(s) used to refine structure: SHELXL2013 (Sheldrick, 2008

); molecular graphics: OLEX2 (Dolomanov et al., 2009

); software used to prepare material for publication: OLEX2.
---
Supplementary data and figures for this paper are available from the IUCr electronic archives (Reference: ZL2564 ).
---
The authors thank the US National Science Foundation for funding (grant No. CHE-01311288) for the purchase of the Oxford Diffraction Xcalibur2 single-crystal diffractometer.
Agilent (2013). CrysAlis PRO. Agilent Technologies UK Ltd, Yarnton, Oxfordshire, England.
Allen, F. H., Wood, P. A. & Galek, P. T. A. (2013). Acta Cryst. B69, 379-388.




Dehnen, S. & Zimmermann, C. (2000). Chem. Eur. J. 6, 2256-2261.




Dolomanov, O. V., Bourhis, L. J., Gildea, R. J., Howard, J. A. K. & Puschmann, H. (2009). J. Appl. Cryst. 42, 339-341.





Koelle, U., Fuss, B., Belting, M. & Raabe, E. (1986). Organometallics, 5, 980-987.




Olson, W. L. & Dahl, L. F. (1986). Acta Cryst. C42, 541-544.




Sheldrick, G. M. (2008). Acta Cryst. A64, 112-122.