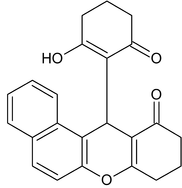 Acta Cryst. (2013). E69, o1558-o1559
[ doi:10.1107/S1600536813025324 ]
12-(2-Hydroxy-6-oxocyclohex-1-enyl)-9,10-dihydro-8H-benzo[a]xanthen-11(12H)-one
M. Akkurt, S. K. Mohamed, A. R. Kennedy, A. A. Abdelhamid, G. J. Miller and M. R. Albayati
---
Key indicators
Single-crystal X-ray study
T = 123 K
Mean (C-C) = 0.002 Å
Disorder in main residue
R factor = 0.051
wR factor = 0.114
Data-to-parameter ratio = 17.6
checkCIF/PLATON results
No syntax errors found




---




---


Alert level C
PLAT906_ALERT_3_C Large K value in the Analysis of Variance ......      5.077      
PLAT910_ALERT_3_C Missing # of FCF Reflections Below Th(Min) .....          4      
PLAT911_ALERT_3_C Missing # FCF Refl Between THmin & STh/L=  0.600          2      


---


Alert level G
PLAT002_ALERT_2_G Number of Distance or Angle Restraints on AtSite          8      
PLAT005_ALERT_5_G No _iucr_refine_instructions_details  in the CIF          ? Do ! 
PLAT301_ALERT_3_G Note: Main Residue  Disorder ...................         11 %    
PLAT793_ALERT_4_G The Model has Chirality at C11     (Verify) ....          S      
PLAT860_ALERT_3_G Note: Number of Least-Squares Restraints .......          8      
PLAT912_ALERT_4_G Missing # of FCF Reflections Above STh/L=  0.600        421      
PLAT951_ALERT_5_G Reported and Calculated Kmax Values Differ by ..          2      


---


   0 ALERT level A = Most likely a serious problem - resolve or explain
   0 ALERT level B = A potentially serious problem, consider carefully
   3 ALERT level C = Check. Ensure it is not caused by an omission or oversight
   7 ALERT level G = General information/check it is not something unexpected

   0 ALERT type 1 CIF construction/syntax error, inconsistent or missing data
   1 ALERT type 2 Indicator that the structure model may be wrong or deficient
   5 ALERT type 3 Indicator that the structure quality may be low
   2 ALERT type 4 Improvement, methodology, query or suggestion
   2 ALERT type 5 Informative message, check


---



checkCIF publication errors


---


Alert level A
PUBL024_ALERT_1_A The number of authors is greater than 5.
              Please specify the role of each of the co-authors
              for your paper.

| | |
| --- | --- |
| | Author Response: Mehmet Alkurt and Gary Miller: both are involved in solving and refining the structure. Alan Kennedy: data collection. Shaaban K. Mohamed is guiding the study. Antar A Abdelhamid: experimental synthesis. Mustafa R Albayati: results monitor and observing analytical data. |



---


   1 ALERT level A = Data missing that is essential or data in wrong format
   0 ALERT level G = General alerts. Data that may be required is missing

---
Copyright © International Union of Crystallography
IUCr Webmaster