---

Volume 69
Part 11
Page m619
November 2013
Received 20 September 2013
Accepted 18 October 2013
Online 26 October 2013
Key indicators
Single-crystal X-ray study
T = 153 K
Mean

(C-C) = 0.006 Å
R = 0.040
wR = 0.089
Data-to-parameter ratio = 16.0
Details

Poly[(6-benzene-1,3,5-tri­carboxyl­ato-6O1:O1':O3:O3':O5:O5')tris­(N,N-di­methyl­formamide-O)tris­(3-formato-3O:O:O')trizinc(II)]

The asymmetric unit of the title compound, [Zn3(HCO2)3(C9H3O6)(C3H7NO)3]n, contains one Zn ion, one formate ligand, one N,N-di­methyl­formamide (DMF) ligand and one-third of a benzene-1,3,5-tri­carboxyl­ate (btc) ligand situated on a crystallographic 3 axis. Each ZnII atom is coordinated by one O atom from a DMF ligand, two O atoms from two btc ligands and three O atoms from three formate ligands in a distorted octa­hedral geometry. The ZnII atoms are connected by the formate and btc ligands, forming hexanuclear cores, which are linked by btc ligands, constructing a two-dimensional layered network along the ab plane.
Related literature
For general background to compounds with metal-organic frameworks, see: Eddaoudi et al. (2000

)·The crystal structures of isotypic compounds with NiII and MgII were reported by Maniam & Stock (2011

) and Yeh et al. (2010

), respectively.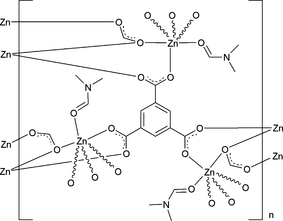 Experimental
Data collection: SMART (Bruker, 1997

); cell refinement: SAINT (Bruker, 1997

); data reduction: SAINT; program(s) used to solve structure: SHELXS97 (Sheldrick, 2008

); program(s) used to refine structure: SHELXL97 (Sheldrick, 2008

); molecular graphics: CrystalMaker (CrystalMaker, 2013

); software used to prepare material for publication: publCIF (Westrip, 2010

).
---
Supplementary data and figures for this paper are available from the IUCr electronic archives (Reference: CV5429 ).
---
This research was supported by the Energy Efficiency & Resources of the Korea Institute of Energy Technology Evaluation and Planning (KETEP) grant funded by the Korea government Ministry of Knowledge Economy (No. 20122010100120).
Bruker (1997). SMART and SAINT. Bruker AXS Inc., Madison, Wisconsin, USA.
CrystalMaker (2013). CrystalMaker. CrystalMaker Software Ltd, Yarnton, Oxfordshire, England.
Eddaoudi, M., Li, H. & Yaghi, O. M. (2000). J. Am. Chem. Soc. 122, 1391-1397.




Maniam, P. & Stock, N. (2011). Inorg. Chem. 50, 5085-5097.






Sheldrick, G. M. (2003). SADABS. University of Göttingen, Germany.
Sheldrick, G. M. (2008). Acta Cryst. A64, 112-122.




Westrip, S. P. (2010). J. Appl. Cryst. 43, 920-925.





Yeh, C.-T., Liu, H.-K., Lin, C.-J. & Lin, C.-H. (2010). Acta Cryst. E66, m1289.