how to find our offices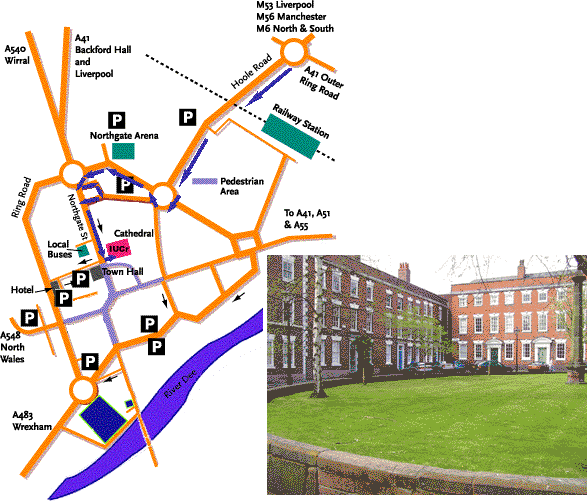 By air
Manchester and Liverpool Airports are about 45 minutes away by road.
By road
Coming from the M56
Leave the M56 at junction 15 and take the M53 towards Chester and North Wales. Leave the M53 at junction 12 and take the A56 (again to Chester). Follow the signs for the city centre and Hoole Road negotiating two roundabouts.
Follow Hoole Road into Chester (about 1-2 miles), over a railway bridge and then straight across some traffic lights until you reach a roundabout at the inner ring road. Turn right at this roundabout and follow the ring road to the next roundabout (Fountains roundabout/A540 junction) then turn left towards the city centre.
Follow the one way system by turning immediately left then right to loop around so that you reach a T junction with traffic lights at Northgate Street. Turn left down Northgate Street and keep going straight on until you reach a junction at a bend in the road. Bear left here onto a brick-paved road towards the Town Hall and past a sign that says for access only.
After a few yards you will see a barrier (and the pedestrianised area). Immediately before this barrier you should turn left through an archway (opposite the town hall) into Abbey Square.
If we are expecting you give your name to the gateman at this archway and let him know that you are visiting the IUCr at 5 Abbey Square and he will give you directions on where to park.
By rail
Chester is easily reached by train. Trains to North Wales all stop at Chester and there are other services to Chester from Crewe, Manchester and the Midlands.
Abbey Square is about 15 minutes walk from Chester railway station. On leaving the station turn right and follow the road around as it bends to the left, continue across a road junction and into Brook Street. Carry on to the end of this street until you reach the ring road. Cross this road using the pedestrian crossing and continue for about 350 yards towards Frodsham Street until you reach Kaleyards (just after the Iceland supermarket). Kaleyards is a narrow path to the right which leads up to a gateway in the city walls. Go through this gateway in the walls and bear right slightly then turn left along Abbey Street. Follow Abbey Street until its end where you will reach Abbey Square. The offices at Numbers 5 and 6 are directly opposite across the square.
The free bus service from the station to the city centre does not stop near to Abbey Square, but does stop in Frodsham Street. From the bus stop, cross Frodsham Street and walk back up it looking for Kaleyards on the left-hand side, just before the Iceland supermarket.