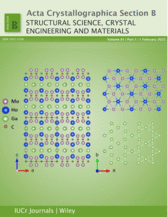 Acta Crystallographica Section B: Structural Science, Crystal Engineering and Materials publishes scientific articles related to the structural science of compounds and materials in the widest sense. Knowledge of the arrangements of atoms, including their temporal variations and dependencies on temperature and pressure, is often the key to understanding physical and chemical phenomena and is crucial for the design of new materials and supramolecular devices. Acta Crystallographica B is the forum for the publication of such contributions. The journal also welcomes contributions focusing on all aspects of crystal growth related to structural science, crystal engineering and materials. Scientific developments based on experimental studies as well as those based on theoretical approaches, including crystal-structure prediction, structure-property relations and the use of databases of crystal structures, are published.
IUCr denounces the invasion of Ukraine
The International Union of Crystallography (IUCr) is greatly dismayed by the invasion of Ukraine and is concerned about its impact for the rest of the world. IUCr stands in solidarity with the international scientific community as we are concerned for the well being and life of all Ukrainian people. We stand by their side. IUCr seeks ways to serve all its members worldwide during this difficult time; it declares its support for the rights and freedoms conveyed in the Universal Declaration of Human Rights for all people.
IUCr condemns all wars, and calls for a halt to hostilities and for a peaceful end to this crisis. We have suspended publication fees for our journals for authors based in the Ukraine (for more details contact supportb@iucr.org).
Crystal growth
We are pleased to announce that Acta Crystallographica Section B has launched a new section on crystal growth.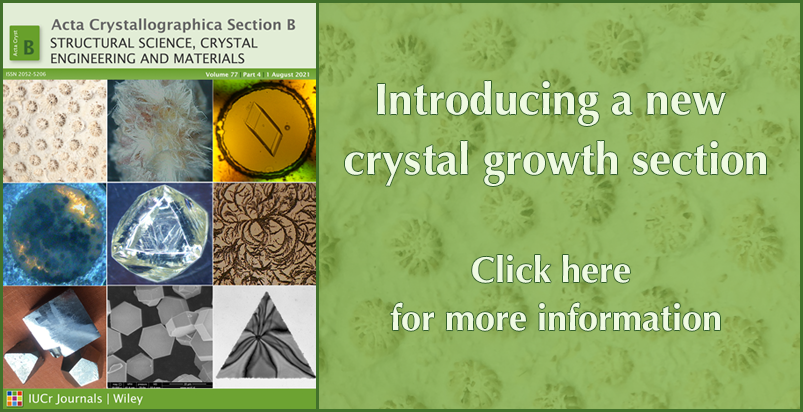 latest articles



most read



most cited



highlighted articles