about Acta Crystallographica Section B
Distribution of articles
In the last year, authors from 29 different countries published in the journal, the top five being Russia, Germany, Canada, China and Poland.
Aims and scope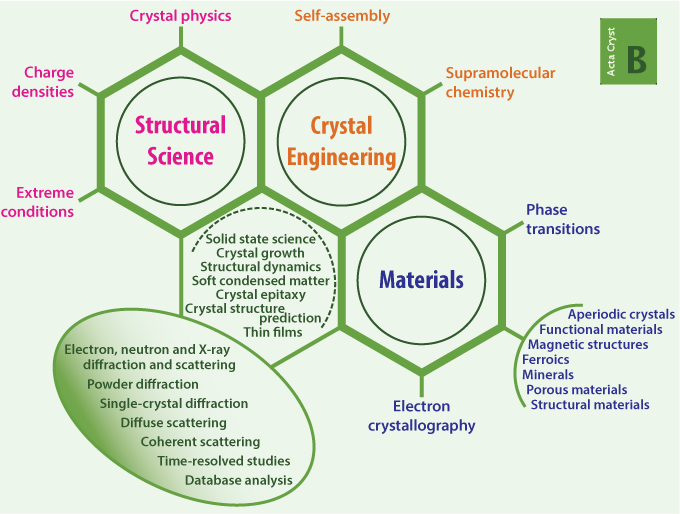 Acta Crystallographica Section B: Structural Science, Crystal Engineering and Materials publishes scientific articles related to the structural science of compounds and materials in the widest sense. Knowledge of the arrangements of atoms, including their temporal variations and dependencies on temperature and pressure, is often the key to understanding physical and chemical phenomena and is crucial for the design of new materials and supramolecular devices. Acta Crystallographica B is the forum for the publication of such contributions. Scientific developments based on experimental studies as well as those based on theoretical approaches, including crystal-structure prediction, structure-property relations and the use of databases of crystal structures, are published.
Journal identifiers
Title: Acta Crystallographica Section B
Subtitle: Structural Science, Crystal Engineering and Materials
Abbreviated title: Acta Cryst. B
ISSN: 2052-5206
CODEN: ACSBDA
DOI: https://doi.org/10.1107/S20525206
Citation and statistical information
Impact factor history
2017 JCR data
Impact factor: 6.467
5-year impact factor: 4.173
Total cites: 11143
Immediacy index: 0.525
Cited half-life: >10.0

Journal citation distribution
The citation distributions are for citations made in 2018 and 2017. For more information, see http://biorxiv.org/content/early/2016/09/11/062109.
Eigenfactor® metrics
Eigenfactor® score: 0.00604
Article influence® score: 1.052
Scopus metrics
CiteScore: 4.54
2018 journal statistics
Downloads: 354971
Number of submissions: 168
Rejection and withdrawal rate: 43%
Average publication time: 5.0 months
Number of articles published: 75
Number of pages: 744

Peer review
Peer review: yes
Review process: single-blind
Open access
Journal policy: the journal operates a hybrid open-access policy
Open-access licence: Creative Commons Attribution (CC-BY)
Publishing costs
Submission fees: none
Page charges: none
Colour charges: none
Open-access option: the open-access fee is USD 1400; click here for more details
Abstracting details
Acta Crystallographica Section B is covered by:
Features for authors
Online manuscript submission, ease of submission
Online tools to help prepare papers
Tool available for preparing enhanced figures
Quality technical editing
Supporting information can be published
Download, citation and altmetrics statistics available
Features for readers
Highlighted articles
Links to World Directory of Crystallographers entries
Easy navigation within each article
Citation links to IUCr journals, Chemical Abstracts Service, Crossref, Medline and Web of Science
Immediate access to supporting information
Interactive three-dimensional structure visualizations
Linking to structural databases
Check for citations of article in Web of Science, IUCr journals and Crossref
Single articles may be purchased
Forthcoming meetings listing
Twitter feed
Facebook page
Sample issue available
Advertising information
Journal policies
Contact us