issue contents
January 2011 issue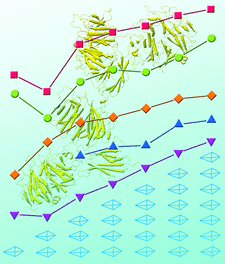 Cover illustration: Multi-crystal SAD phasing of a relatively large structure (1456 ordered residues) at relatively low resolution (3.5 Å) (p. 45). Statistical measures of data quality are plotted as a function of the number of crystals (blue figures across the abscissa) used in the mergers of data: anomalous correlation coefficient (red),

F/

(

F) (green), map correlation coefficient (orange), CCweak (blue) and I/

(I) (purple). Ordinate scales and origins are arbitrary; actual values are in Table 3 and 6 of the article. The background shows a ribbon diagram (drawn by PyMOL) for the contents of one asymmetric unit: two sensor domains of a histidine kinase receptor from the human gut symbiont Bacteroides thetaiotaomicron.
research papers
---
---
---
---
---
---
---
---
international union of crystallography
---