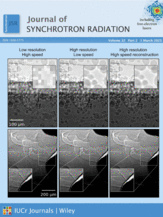 Synchrotron radiation research is rapidly expanding with many new sources of radiation being created globally. Synchrotron radiation plays a leading role in pure science and in emerging technologies. The Journal of Synchrotron Radiation has been open access since 2022 and provides comprehensive coverage of the entire field of synchrotron radiation and free-electron laser research including instrumentation, theory, computing and scientific applications in areas such as biology, nanoscience and materials science. Rapid publication ensures an up-to-date information resource for scientists and engineers in the field.
IUCr denounces the invasion of Ukraine
The International Union of Crystallography (IUCr) is greatly dismayed by the invasion of Ukraine and is concerned about its impact for the rest of the world. IUCr stands in solidarity with the international scientific community as we are concerned for the well being and life of all Ukrainian people. We stand by their side. IUCr seeks ways to serve all its members worldwide during this difficult time; it declares its support for the rights and freedoms conveyed in the Universal Declaration of Human Rights for all people.
IUCr condemns all wars, and calls for a halt to hostilities and for a peaceful end to this crisis. We have suspended publication fees for our journals for authors based in the Ukraine (for more details contact supports@iucr.org).


latest articles



most read



most cited



highlighted articles