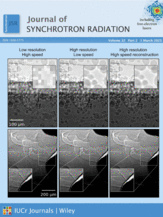 Synchrotron radiation research is rapidly expanding with many new sources of radiation being created globally. Synchrotron radiation plays a leading role in pure science and in emerging technologies. Journal of Synchrotron Radiation has been open access since 2022 and provides comprehensive coverage of the entire field of synchrotron radiation and X-ray free-electron laser (XFEL) research including:
instrumentation development
beamline construction and operation
theory, software and data analysis
machine learning and artificial intelligence
scientific applications in areas such as physics, chemistry, biology and medicine, nanoscience, materials science, environmental science and cultural heritage
The journal accepts the following types of manuscripts:
Journal of Synchrotron Radiation
also publishes special issues focusing on specific areas of research that have a broad appeal in synchrotron radiation and XFEL fields and fall within the aims and scope of the journal. Special issue proposals should be sent to the Main Editors or Editorial Office.
The journal is committed to rapid publication ensuring an up-to-date information resource for scientists and engineers in the field.


latest articles



most read



most cited



highlighted articles