media kit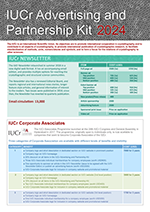 About the International Union of Crystallography
Crystallography is the branch of science devoted to the study of molecular and crystalline structure and properties, with far-reaching applications in biology, materials science, chemistry, physics, mathematics, and mineralogy. The IUCr is an International Scientific Union. Its objectives are to promote international cooperation in crystallography and to contribute to all aspects of crystallography, to promote international publication of crystallographic research, to facilitate standardization of methods, units, nomenclatures and symbols, and to form a focus for the relations of crystallography to other sciences.
The IUCr publishes nine primary online peer-reviewed scientific journals: journals.iucr.org
2017 Advertising opportunities and rates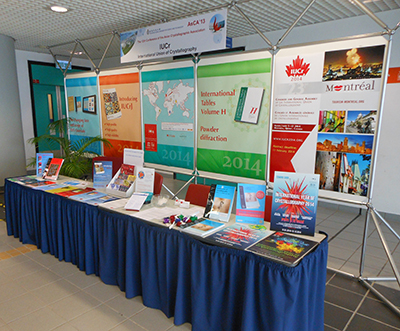 Brand promotion
We participate in a number of scientific meetings annually. If you would like us to distribute material on your behalf, host an in-event mixer or reception, please contact us (commercialsales@iucr.org) for availability and prices.
Partnering with the IUCr in this way provides a unique opportunity to promote your brand or product to premier experts in the scientific field. Partnership with the leading scientific union in crystallography will also give you greater reach into the market accessing key decision makers from many of the world's leading research laboratories, facilities, and corporate laboratories, providing excellent networking opportunities across academia and industry.
Facility, institution and corporate information pages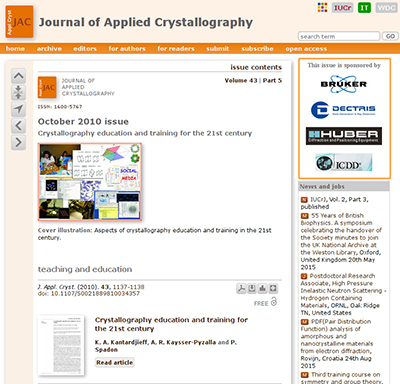 Any organization can now sponsor their own dedicated information page providing details and activities of your organization delivered directly to your target audience.
For a number of years, the facility information packages have been instrumental in keeping users of large-scale facilities up-to-date. We are now extending this unique opportunity to other facilities, institutions and corporate organisations, allowing them to deliver news and information on their activities directly to their target audience. The dedicated information page will appear not only on the journal homepage(s) of choice but will also be included in the email alert sent to readers when each issue is published.
The package also includes six vouchers (worth $6,000) for six open access articles for authors from your organization to publish in any of our journals, plus a 20% discount on any additional open access articles you wish to publish.
To request further information please contact commercialsales@iucr.org
Newsletter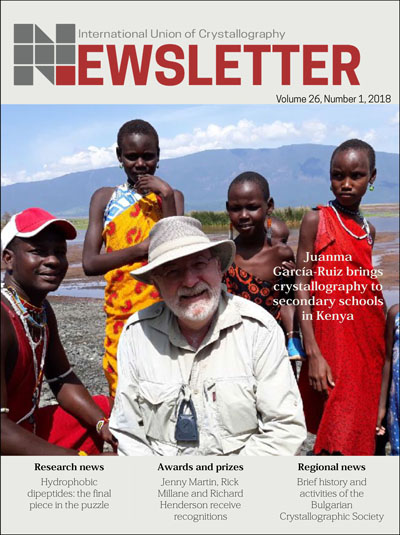 The IUCr Newsletter has a circulation of over 12,000 (including university libraries) in 102 countries. It is distributed electronically to individuals and print copies are made available at scientific meetings and circulated to libraries, funding agencies and scientific societies.
Print newsletter and electronic page-turn version
| | | | |
| --- | --- | --- | --- |
| Colour & duration | Full page | Half page | Quarter page |
| B&W, 1 issue | $1,885 | $1,017 | $648 |
| B&W, 4 issues | $1,676 | $904 | $576 |
| Full Colour, 1 issues | $2,835 | $1,980 | $1,365 |
| Full Colour, 4 issues | $2,520 | $1,760 | $880 |
| | | | |
| --- | --- | --- | --- |
| Artwork dimensions | Full page | Half page | Quarter page |
| Trim size | 206 x 276mm | 206 x 163mm | 103 x 163mm |
| Bleed size | 216 x 286mm | 216 x 173mm | 113 x 173mm |
All prices in $USD
Additional Electronic Options
Enhance your online ad with:
Ad jolt

+ $350

Rich Media - Audio, Video, Flash

+ $300

Zoomerang Survey

+ $300

Ad Gen

+ $125

Premium Sponsorship

Includes 3 positions: Loading Page, a 550 x 480px ad opposite the front cover linked to your website, and toolbar logo
+ $475

Skyscraper

Ad on the right side of the website with a link to your website viewable throughout the issue (120 x 600px)
+ $400

Banner

Ad above the issue with a link to your website viewable throughout the issue. (468 x 60px)
+ $400

Bellyband, Gatefold, Insert Card (print only)

+ $200
E-newsletter advertising specifications
Top position:

190 x 190px
$475 / issue

Mid position:

470 x 190px
$400 / issue

Bottom position:

470 x 190px
$250 / issue

Circulation:

12,608

40kb max. file size
For more information, please contact commercialsales@iucr.org
Website banner advertising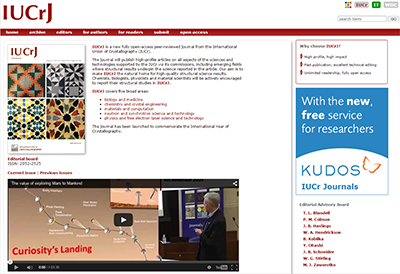 IUCr banner advertisements provide instant marketing impact for your product and business.
Readers come to the IUCr suite of web pages and the individual journal homepages to see the latest science from our community. To reach all of our readers, spread your message across all our platforms.
Our sites fall into three main areas:
| | |
| --- | --- |
| journals.iucr.org | 200,000+ page views per month |
| iucr.org | 150,000+ page views per month |
| it.iucr.org | 75,000+ page views per month |

Your leaderboard, large rectangle or skyscraper can be served across all of these pages or just a selection of interest specifically to you.
| | |
| --- | --- |
| Leaderboard | $1,575 |
| Large Rectangle | $1,575 |
| Skyscraper | $1,575 |
Rates shown per month of placement
For more information, please contact commercialsales@iucr.org
Job advertisements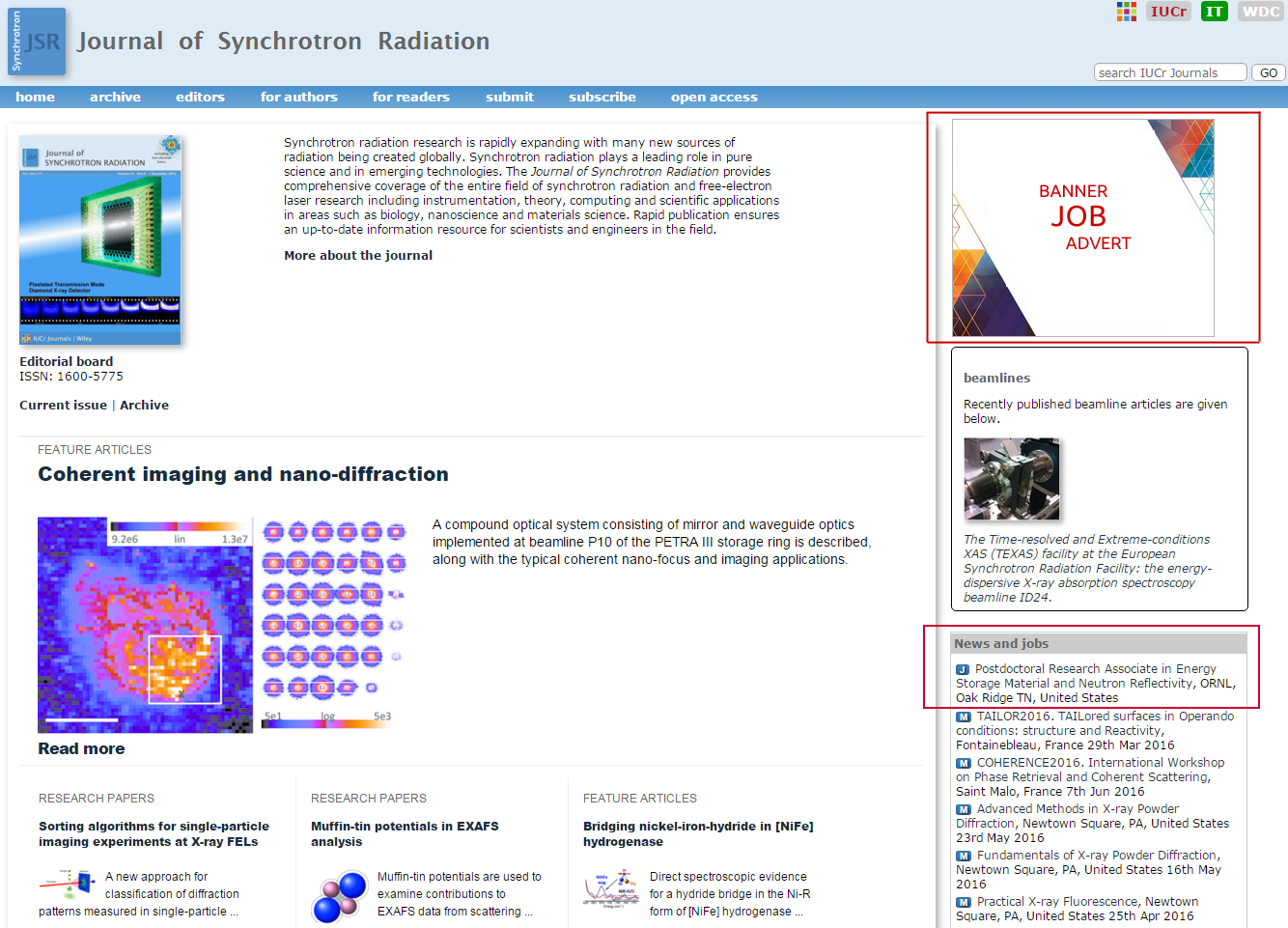 Advertise your vacant positions on a relevant journal home page, either with a large rectangle banner ad or a premium job listing.
| | | | |
| --- | --- | --- | --- |
| | One month | Two months | Three months |
| Large rectangle (336 x 280 px) | $500 | $750 | $1000 |
| Premium job listing | $150 | $200 | $225 |
OpenLabs
The IUCr–UNESCO OpenLab initiative, undertaken in partnership with major equipment manufacturers, has the following main objectives:
to nurture crystallographic activity

to increase the technological base and to spark interest in youngsters

to encourage the purchase of advanced instrumentation
Participation in OpenLabs allows instrument manufacturers to increase market penetration while playing an influential role in developing and enlarging the crystallographic community worldwide, especially in regions where there has hitherto been restricted access to equipment and expertise. Contact us (commercialsales@iucr.org) to find out how you can get involved.
Custom print publications
Full page advert in a custom-created print publication for distribution at key conferences and events (1,000 copies)
Package price $7,500
Associated online advertising included in the package:
Logo on the relevant IUCr journal's home page 'sponsors' section

Advertising across relevant journal e-alert emails.
For more information, please contact commercialsales@iucr.org
Lead generation webinars
IUCr webinars can help you reach the prospects you seek. IUCr webinars are free to attend and each registrant is a qualified, active sales lead, helping to improve your marketing ROI.
IUCr selects the speakers and moderates the event

Topics are selected on the latest research and technology to align with your objectives

Presentations are delivered by top scientists from around the world

You can select audio and video formats.
We will work with you to align content and audiences to generate maximum interest. The recorded webinar will be available on demand at www.iucr.org, meaning your event will continue to grow in audience numbers long after it takes place.
Webinar sponsorship includes:
Topic selection in consultation with our network of editors in the field

Comprehensive marketing campaign to maximize brand exposure, registration, and attendance, including promotion in IUCr email alerts, typically reaching over 30,000 opt-in subscribers

Turnkey execution: IUCr produces and administers the entire event

Post-event reporting.
$3,750 per event
For more information, please contact commercialsales@iucr.org
White papers and sponsored content
If your company has produced any of the following, and if you would like to make these more accessible to an international audience, IUCr can help:
• Reports • White papers • Case studies • Training material • Videos
We can increase the visibility of your content, offering you the opportunity to obtain the contact details of industry professionals who view your material via our lead generation programme, increasing sales leads for your company.
What we offer
We will place your resource in the free downloads section of the IUCr website, and anyone wishing to access the material must complete a registration form. The form will collect up to five pieces of demographic information, as specified by you. On a weekly basis, you will receive a list of qualified sales leads to convert into customers.
Our packages include:
Registration form including five demographic questions of your choice

The sponsored content will feature on the IUCr website for 1 month

Promoted on the home page of IUCr.org

Your sponsored content will be placed on a unique page within the download section and will include an explanatory introduction, your company logo and company information

The sponsored content will be promoted in a white paper e-alert

Every week during the campaign we will send you the qualified sales leads and an on-going report of the total number of leads generated.
Additional opportunities
We can send a unique email blast to a targeted list of recipients alerting them to your new content

This email blast is also an excellent brand-building opportunity and can feature additional information about your company and its products or services.
For more information, please contact commercialsales@iucr.org
Sponsored features
If your company has been featured in an IUCr journal article, we can offer you the opportunity to have that article upgraded into a Sponsored feature on IUCr.
Our packages include:
The sponsored feature news article live on IUCr for up to 12 months

Promotion on the home page of IUCr for a period

Promotion in our regular e-newsletter for one month
Additional opportunities
The sponsored feature can also be promoted in a one-off unique email blast to our e-alert circulation list.
For more information, please contact commercialsales@iucr.org
Journal e-alerts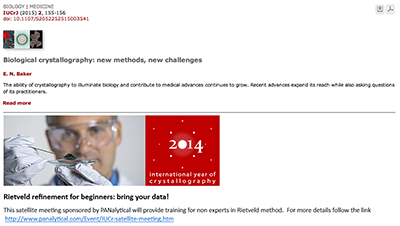 Reach relevant, targeted audiences by broadcasting your message in one or all of our targeted journal new issue e-alerts.
Circulation
| | |
| --- | --- |
| Journal | E-alert Subscribers |
| Foundations and Advances | 3,243 |
| Structural Science, Crystal Engineering and Materials | 3,307 |
| Structural Chemistry | 3,046 |
| Structural Biology | 3,418 |
| Crystallographic Communications | 2,696 |
| Structural Biology Communications | 3,058 |
| Applied Crystallography | 4,076 |
| Synchrotron Radiation | 3,146 |
| IUCrJ | 11,334 |
Figures correct as of December 2015
Ad specifications and pricing
| | | |
| --- | --- | --- |
| Top position: | 470 x 190px | $475 / month |
| Mid position: | 470 x 190px | $400 / month |
| Bottom position: | 470 x 190px | $250 / month |

40kb max. file size
For more information, please contact commercialsales@iucr.org
Advertising and promotion enquiries
For more information on any of our media and advertising opportunities, please contact Dr Jonathan Agbenyega (ja@iucr.org).


latest articles



most read



most cited



highlighted articles