advertising information
Advertising is welcomed in Acta Crystallographica Section B.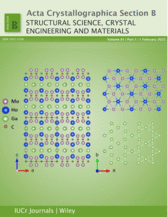 For information on online advertising rates, click here. Further information on advertising may be obtained from
Andrea Sharpe
IUCr Promotions Officer
International Union of Crystallography
5 Abbey Square
Chester CH1 2HU
UK

Telephone: 44 1244 342878
Fax: 44 1244 314888
E-mail: as@iucr.org or click here
Promotional materials
Promotional materials for IUCr journals can be found here.


latest articles



most read



most cited



highlighted articles