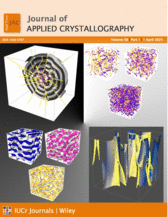 Many research topics in condensed matter research, materials science and the life sciences make use of crystallographic methods to study crystalline and non-crystalline matter with neutrons, X-rays and electrons. Articles published in Journal of Applied Crystallography focus on these methods and their use in identifying structural and diffusion-controlled phase transformations, structure-property relationships, structural changes of defects, interfaces and surfaces, etc. Developments of instrumentation and crystallographic apparatus, theory and interpretation, numerical analysis and other related subjects are also covered. The journal is the primary place where crystallographic computer program information is published.
IUCr denounces the invasion of Ukraine
The International Union of Crystallography (IUCr) is greatly dismayed by the invasion of Ukraine and is concerned about its impact for the rest of the world. IUCr stands in solidarity with the international scientific community as we are concerned for the well being and life of all Ukrainian people. We stand by their side. IUCr seeks ways to serve all its members worldwide during this difficult time; it declares its support for the rights and freedoms conveyed in the Universal Declaration of Human Rights for all people.
IUCr condemns all wars, and calls for a halt to hostilities and for a peaceful end to this crisis. We have suspended publication fees for our journals for authors based in the Ukraine (for more details contact supportj@iucr.org).


latest articles



most read



most cited



highlighted articles