Kudos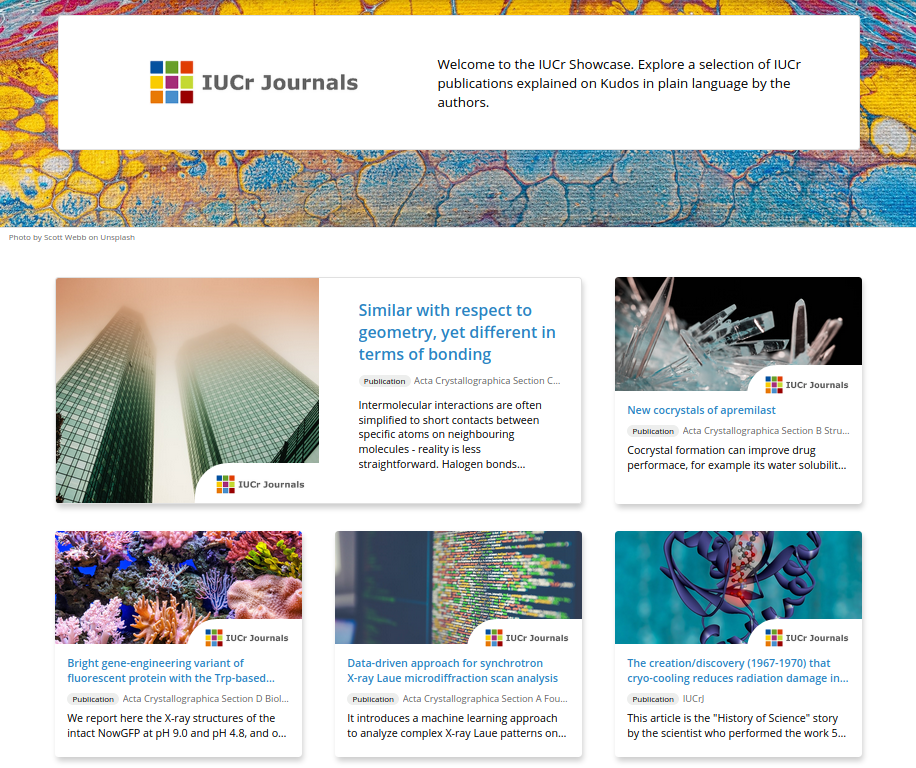 Authors can use Kudos to improve the visibility and impact of their research work via email and social media. The Kudos service will also measure the results of these actions and track the resulting increase in activity and, ultimately, citations.
After publication of an article within an IUCr journal, authors may log on to the Kudos platform. On the platform, authors will be led through various steps that prompt them to explain their article; add context via links to other content such as images and data; and share their article via social networks and email.
The Kudos platform will enable authors to see the effect of their actions on altmetrics and citations. There is also a Kudos showcase of articles from IUCr Journals.
How to use Kudos
Kudos is free for researchers to use. To set up an account go to the website: http://www.growkudos.com and click on Register in the top right corner of the screen. Complete the form and if you are happy to proceed, click Create my account.
You can Claim articles/publications by clicking on Add Publications on your My Profile page or by entering your name and/or the DOI/keywords from your publication title in the Search page in the main menu. The more information you enter the better the results that will be returned.
A user guide to Kudos is available at https://www.growkudos.com/about/user_guide.
Examples of articles with lay summaries
Acta Cryst. A
A new theory for X-ray diffraction
Acta Cryst. B
Crystal structure of beta-Pigment Red 170
Modulated structure of adamantan-1-ammonium 4-fluorobenzoate at low temperature
Acta Cryst. D
Fingerprinting crystal structures with Raman spectroscopy
pH measurement with a spectrophotometer
J. Appl. Cryst.
How does the Nb-content change the martensite crystallography in Ti-Nb alloys?
J. Synchrotron Rad.
Achieve sub-10 pm spatial resolution using EXAFS
Useful videos from Kudos