IUCr Journals get a fresh look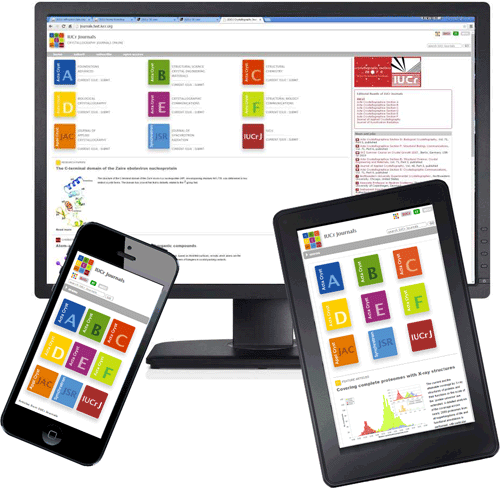 The online version of the IUCr's research journals was launched at the 1999 Congress in Glasgow under the masthead of Crystallography Journals Online. It was an innovative platform, providing full-text HTML with high-quality mathematical typesetting, easy access to CIFs and other supporting information associated with any article, and links out to cited literature and structural database entries.
Now, 16 years later, to accommodate new hardware devices and to meet the desire for more information about significant new publications, the IUCr Journals website has been given a fresh new livery and enhanced functionality. The new design is clean, bright and adaptable to different screen sizes. Exactly the same information is served up to mobile phone, tablet and desktop devices, but the format will change to suit the limitations or advantages of each class of device.
New article format
The straightforward, linear presentation of individual articles has not altered – readers still find this the most natural and efficient way to read articles. However, a new default sanserif typeface and changes to the design of tables and figures improve the clarity of the HTML text. There is also clearer marking of the article's category, citation and digital object identifier (DOI), together with its copyright and licensing information and a clear indication if it is open access or free-to-read. Prominent at the top of each page is an obvious link to the article's status and publication history as certified by the CrossMark system.
As before, technical terms in crystallography and chemistry are hyperlinked respectively to definitions in the Online Dictionary of Crystallography and the IUPAC Compendium of Chemical Terminology (the `Gold Book'). Also, the reference list links out to cited articles and database entries indirectly through Crossref, the Web of Science, Chemical Abstracts Service and the CCDC, or directly in the case of IUCr Journals.
A toolbox of useful features takes the form of a set of buttons. Whenever appropriate, the same buttons appear on the summary (abstract) page or table of contents associated with the article. This allows the reader to obtain relevant information about the article (e.g. citation format, usage statistics, supporting information) from the most convenient entry point. So you do not have to be actually reading an article, for example, to obtain a three-dimensional visualisation of the structures it describes – particularly useful for non-subscribers who wish to learn more about a non-open-access article.
An especially useful new feature is the detailed usage information available for every article, showing numbers of citations as recorded by a number of monitoring services, as well as a detailed interactive graph of all article downloads in both PDF and HTML formats from the IUCr Journals server.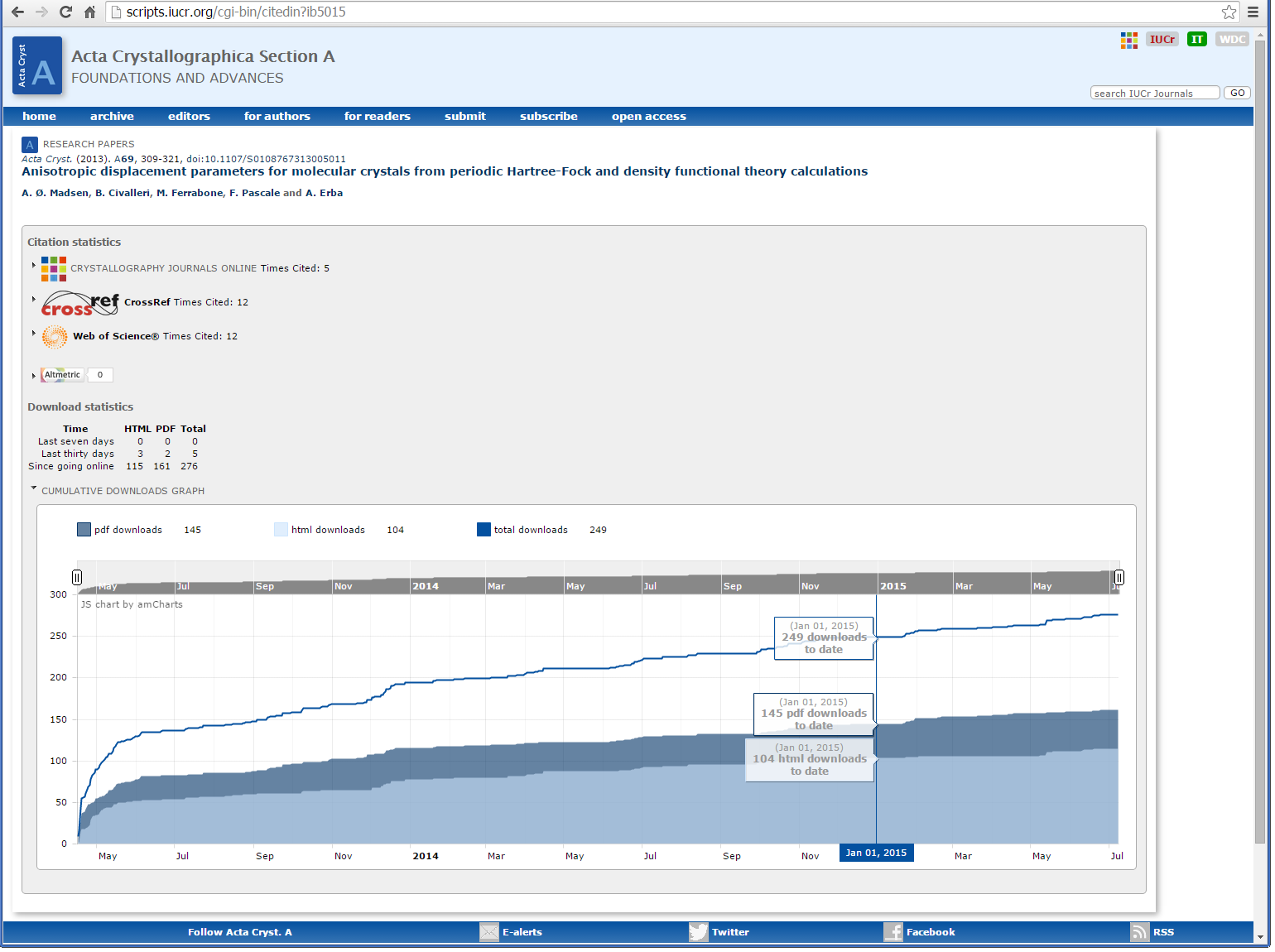 Citation record and cumulative download statistics for an article published in Acta Crystallographica Section A.
New supporting information format
IUCr Journals have always excelled in providing free and easy access to supporting information, especially the structural data files (CIFs, structure factors or Rietveld profiles). Now, experimental, coordinate and geometry data from the CIF can be viewed inline at the end of any article reporting a small-unit-cell structure.
The `3dview' visualisation interface has been improved and provides a common interface for three-dimensional interactive images of all classes of structure: biological macromolecules, inorganics, small molecules, metal–organic complexes. For small structures, there are also tools to view or predict powder profiles, and to perform similarity searches among other structures published in IUCr Journals.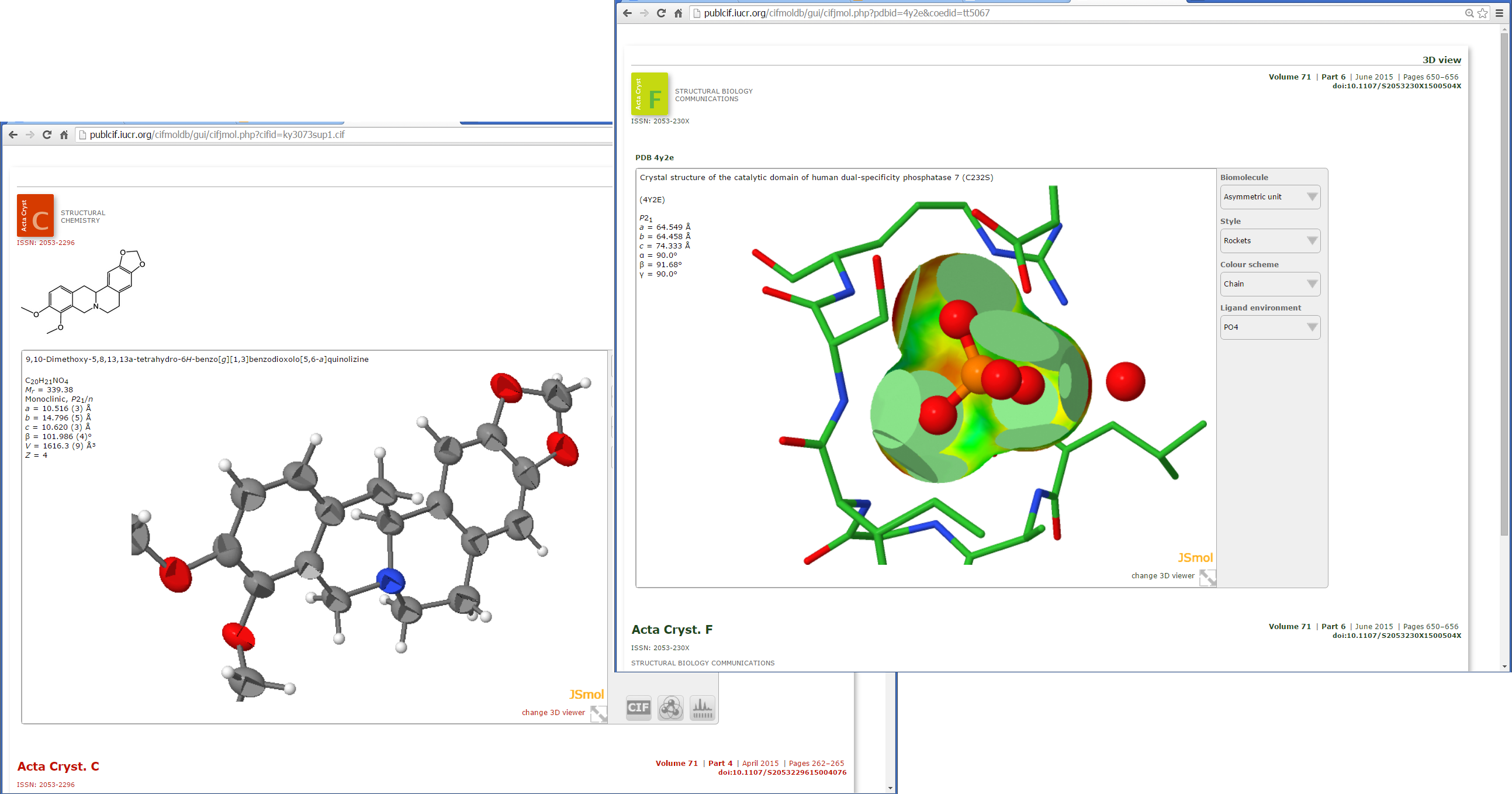 3d visualisation of small molecules (on the IUCr Journals server) and biological structures (from the PDB).
New journals information format
The colourful bold design of the new site emphasises that each journal is part of the same high-quality publishing stable, but at the same time brings out the distinctive qualities of each title. Each journal home page highlights a number of recent articles of particular interest or significance. In many cases these highlighted articles have accompanying commentaries establishing their importance, either in featured articles on the general IUCr home page or as commissioned companion pieces in the journals themselves.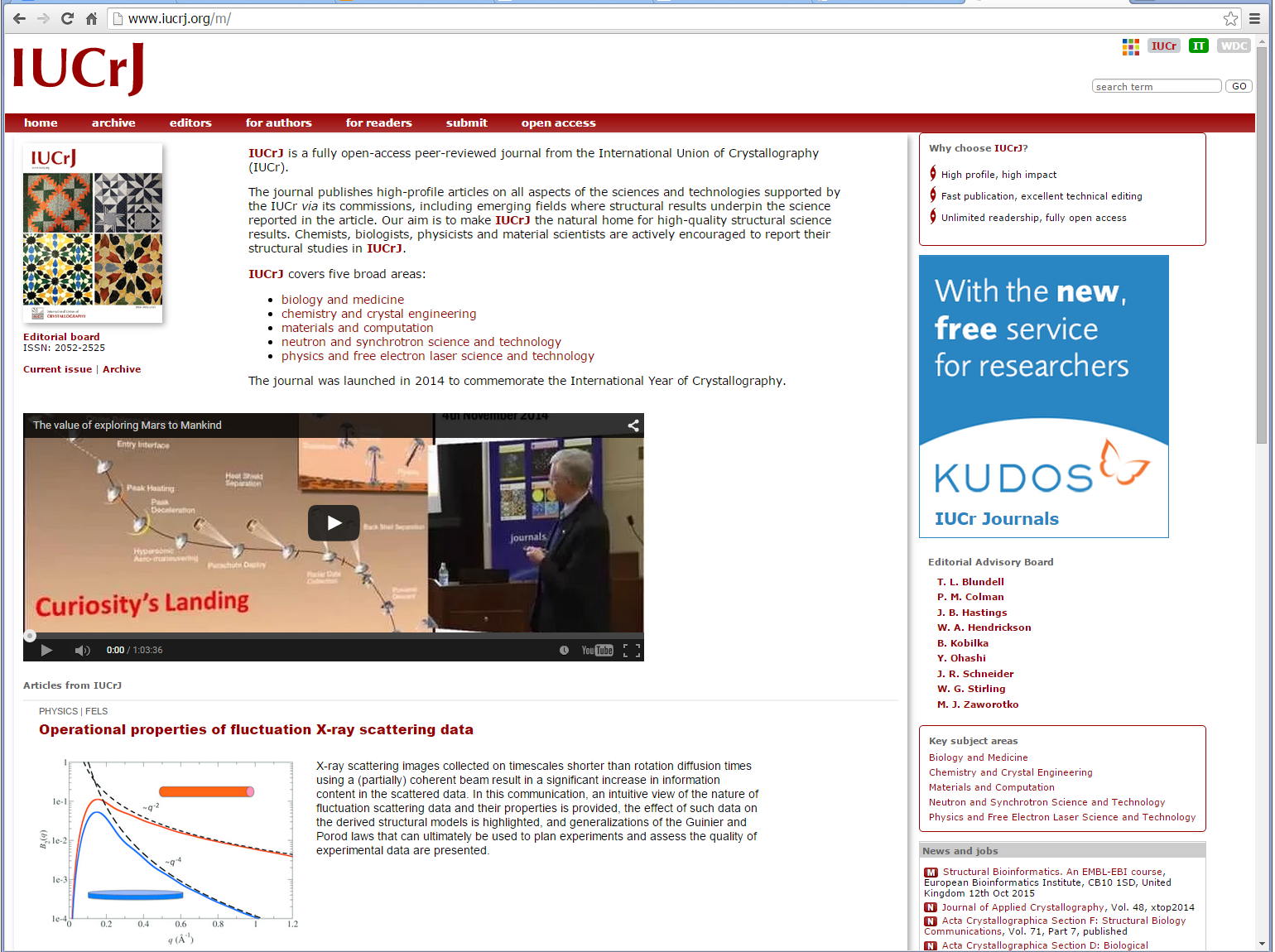 Each journal homepage highlights significant new content.
Sidebars allow for a variety of content related to the specific focus of each journal. For example, Acta Crystallographica Section B has a sidebar link to a gallery of amazing visualisations of incommensurate modulated structures published in the journal. These use JSmol to produce animations in time that correspond to lattice distortions in space. Journal of Synchrotron Radiation focuses on beamline papers in a sidebar, while other journals provide links to special or virtual issues, or provide access to article listings according to keywords categorising the journal's scope.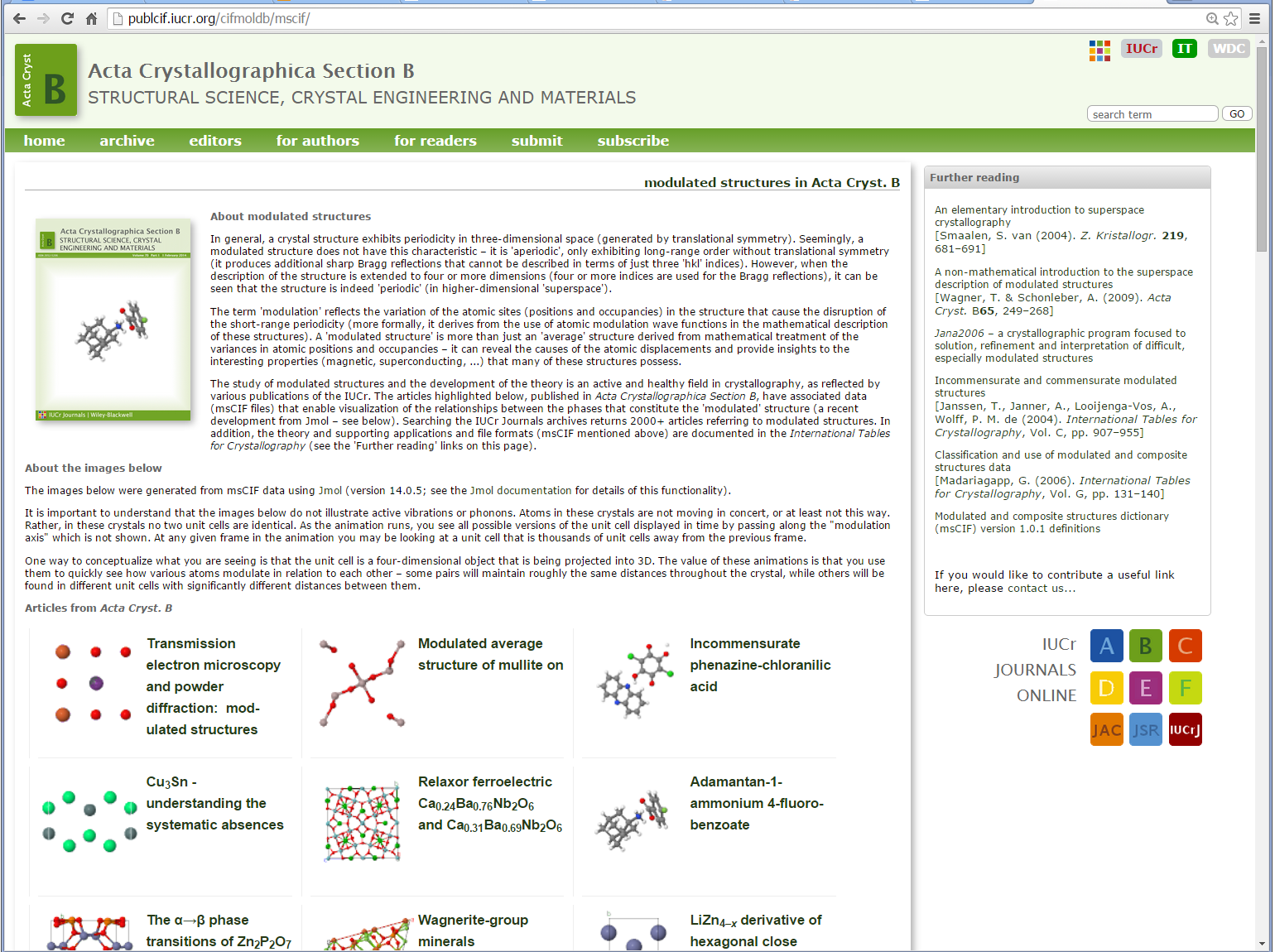 The gallery of incommensurate structures.
The journal home pages also feature constantly updated lists of latest, most read and most cited articles. For each journal, a new `about' page provides a detailed synopsis of that journal's main features, and includes an interactive map showing the distribution of authors worldwide.
Preserving the virtues
The refreshing new look also reflects the changing dynamic of the journals' aims and scope. In the last couple of years, IUCrJ has been launched as an open-access journal publishing high-profile articles with wide appeal across all the fields of science where crystallography plays an important role. Many of the journals have gained new Editors, bringing expertise from new areas, and many of the sections of Acta Crystallographica have revised their subtitles to reflect more accurately their subject areas (see Table).
While the presentation of scholarly research in IUCr Journals has been enhanced enormously by this makeover, the journals themselves maintain their commitment to high-quality peer review, expert editorial guidance, careful copy-editing, proof-reading and typesetting that has always been their hallmark.
As is clear from the incredibly diverse range of inputs into the International Year of Crystallography (chronicled on https://iycr2014.org), crystallography is a science that penetrates deeply into many other disciplines: structural chemistry, materials science, mineralogy, solid-state physics, structural biology, mathematical group theory ...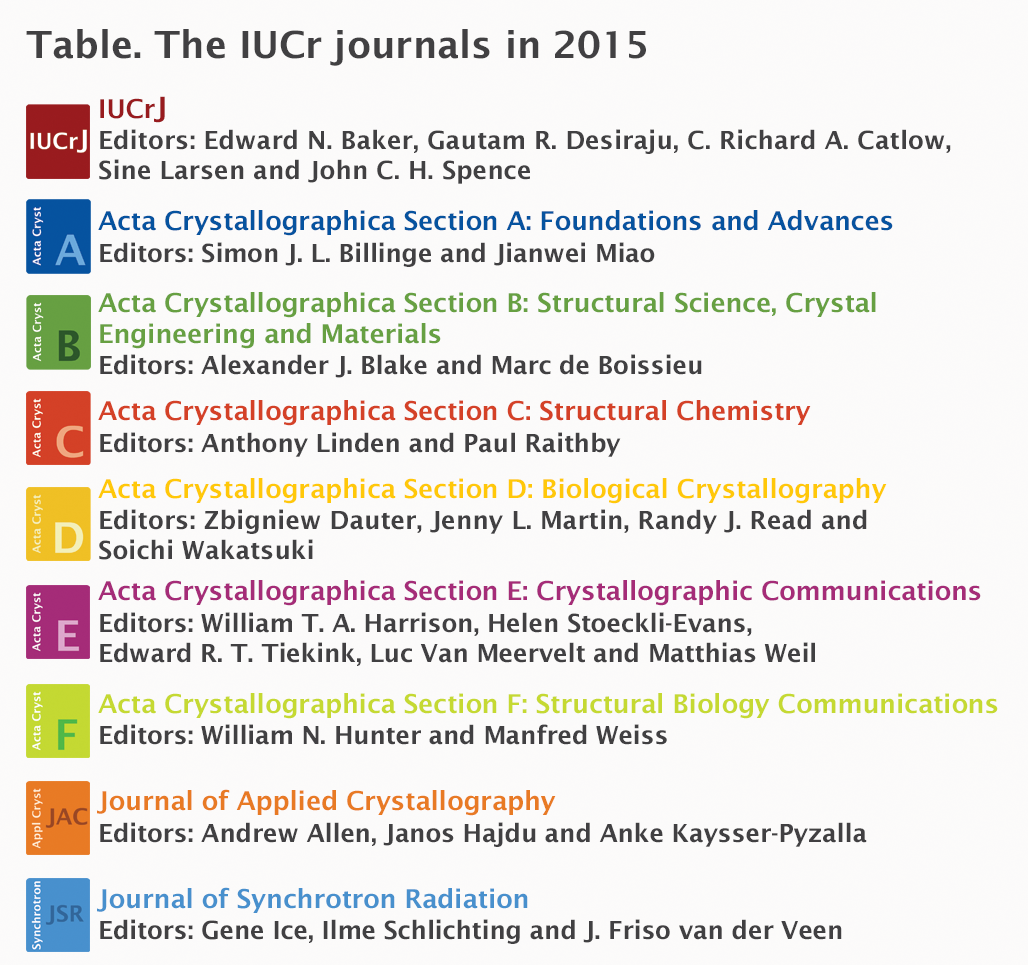 More than ever, IUCr Journals seek to be a natural home for articles describing any relevant area of molecular, structural and materials properties research. They remain true to the vision of Acta Crystallographica's Founding Editor, Paul Ewald, who wrote in the very first editorial of 1948: `Acta is intended to offer a central place for publication and discussion of all research in this vast and ever-expanding field. It borders, naturally, on pure physics, chemistry, biology, mineralogy, technology and also on mathematics, but is distinguished by being concerned with the methods and results of investigating the arrangement of atoms in matter, particularly when that arrangement has regular features.'
While the scholarly publication landscape is changing in the 21st century, IUCr Journals' commitment to quality, to capturing, reviewing, critiquing and disseminating the most important advances in the structural sciences, and to promoting interdisciplinary research is unwavering. And, we hope, with this refreshed online platform, this will become more apparent than ever to the widest range of discerning readers.